1954 - 1960
In 1954, the fourth floor of a Hoi Tan Street building was rented for teaching Martial Arts techniques. A young man named Wong Shun Leung went to Ip's school and tested the Ving Tsun fighting techniques. Lo Man Kam, who was practising there, accepted the challenge. Then Yip Po Ching took care of Wong. Wong finally enrolled. Wong later became an outstanding Ving Tsun practitioner. Later, Lee Kam Shing and William Cheung joined. Not long afterwards, Ip Man even taught a small group of people at the Sam Tai Tze Temple (The Temple of the Third Prince of Sea-Dragon). Lee Hon and Lee Cheung were amongst the students.
葉問宗師與黃作 (左) 及蕭煜民 (右) 師徒合照於一九五六年。(蕭煜民珍藏)

Grandmaster Ip Man with Siu Yuk Men(right) and Wong Tsok (left) in 1956.
(Siu Yuk Men's private collection.)
 

 

 

 

 



葉問宗師與飯店工會職員胡聰在天台閒談。攝於一九五六間。(徐尚田珍藏)

Grandmaster Ip Man and Wu Chung, a staff member of the Restaurant Workers' Union, in 1956.
(Chu Shong Tin's private collection.)




 

葉問宗師參加門徒文少雄婚宴時與門人合攝。時首徒梁相已設館授徒,故到賀者亦有梁之徒眾。此圖相信攝於一九五五至五七年間。(徐尚田珍藏)

Grandmaster Ip Man at his student Man Siu Hung's wedding party. At that time, Ip's eldest student Leoung Sheung had already started teaching Kungfu, so the photo includes his students as well as Grandmaster Ip's. This photo is believed to have been taken between 1955 and 1957. (Chu Shong Tin's private collection.)

In 1956, a gymnasium was opened in Lee Tat Street at Yau Ma Tei. Ng Cham, Yip Yin, Wong Kiu, Wong Cze Wing, Choy Siu Kwong, Wong Tsok, Wong Long, Fung Ping Pol, Chan Chi Man, Siu Yuk Man, Bruce Lee and others attended. At that time, Wong Shun Leung often had scuffles with members of other Kungfu clans, and caused a lot of trouble. He fought mostly with people of Chu Gar Tong Long Pai (Chu's Family Praying Mantis Kungfu Style), but in the end the matter was settled peacefully. Then there was the dispute with Pak Hok Pai (White Crane Kungfu Style). Through the mediation of Mr. Chan Yuet Fat (member of the Pak Hok Kungfu clan, also the swimming instructor of Wong Shun Leung's younger brother Wong Man Leung), a dinner-party at Mun Ting Fang Restaurant at Mongkok in Kowloon was arranged, and senior members of the two Kungfu clans were invited to come together. The dispute was thus resolved.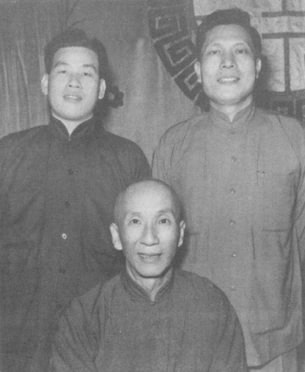 葉問宗師與李榮 (左) 及梁相 (右) 師徒合照於文少雄婚宴中。三人均已作古。(徐尚田珍藏)


The late Grandmaster and two of his late senior students, Lee Wing (left) and Leung Sheung (right).
(Chu Shong Tin's private collection)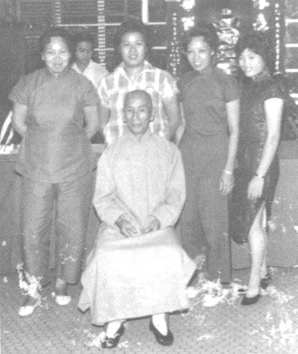 葉問宗師與四名最早期之女弟子合照於一九五七年壽宴中。由左至右 : 李銀歡、佘美瓊、盧娣、亞甜。(葉正珍藏)
Grandmaster Ip Man and four of his earliest female students at a birthday party in 1957. From left to right: Lee Ngan foon, She Mei King, Lo Tei, Ah Tim. (Ip Ching's private collection)
In 1957, Sifu Ip Man moved his Kungfu school to Li Cheng Uk Estate, a housing estate in Kowloon. Ho Kam Ming, Chow Tze Chuen, Mak Po, etc. were students of this period. There was quite a large number of students, and most of them were workers of the bus company. On many occasions, there were challenge-fights and secret contests of martial arts techniques with other Kungfu styles. Fortunately, there were no unhappy incidents. Around this period, Sifu Ip Man also taught two more classes, both in Prat Avenue and Tai Sang Restaurant. Ho Luen, Tam Lai And Koo Sang all started to learn at this time.
© 1990. Copyright by Ving Tsun Athletic Association Ltd.