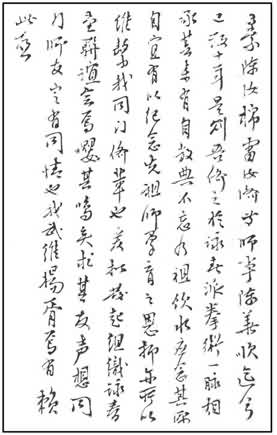 The founder of the Ving Tsun Kungfu System, Miss Yim Ving Tsun was a native of Canton China. As a young girl, she was intelligent and athletic, upstanding and manly. She was betrothed to Leung Bok Chau, a salt merchant of Fukien. Soon after that, her mother died. Her father, Yim Yee, was wrongfully accused of a crime, and nearly went to jail. So the family moved far away, and finally settled down at the foot of Tai Leung Mountain at the Yunnan-Szechuan border. There, they earned a living by. All this happened during the reign of Emperor K'anghsi (1662-1722).
At the time, kungfu was becoming very strong in Siu Lam Monastery (Shaolin Monastery) of Mt. Sung, Honan. This aroused the fear of the Manchu government, which sent troops to attack the Monastery. They were unsuccessful. A man called Chan Man Wai was the First Placed Graduate of the Civil Service Examination that year. He was seeking favour with the government, and suggested a plan. He plotted with Siu Lam monk Ma Ning Yee and others. They set fire to the Monastery while soldiers attacked it from the outside. Siu Lam was burnt down, and the monks scattered. Buddhist Abbess Ng Mui, Abbot Chi Shin, Abbot Pak Mei, Master Fung To Tak and Master Miu Hin escaped and fled their separate ways.
Ng Mui took refuge in White Crane Temple on Mt. Tai Leung (also known as Mt. Chai Har). There she came to know Yim Yee and his daughter Yim Ving Tsun. She bought bean curds at their store. They became friends.